Changes in the Green Book – Part 1 – Removal of "Second Coming" References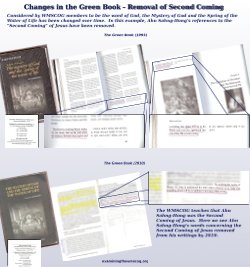 Update 2020:  It turns out that the WMSCOG deleted three entire chapters from the original version of Ahn Sahng Hong's book and it turns out that he believed the world would end in 1988.
This article is dedicated to a man whose brother spends hot days out preaching in a suit. May he come home soon.
The "Mystery of God and the Spring of the Water of Life," or better known as "The Green Book", is a book read in the WMSCOG written by Ahn Sahng Hong, a man they incorrectly claim to be the Second Coming of Jesus Christ. Since Ahn Sahng Hong is their false god, this book effectively serves as an addendum to Holy Scripture, much like the Book of Mormon.
God's Book Changing?
So if God writes a book, do you think that book should change over time? It's reasonable to have minor translation differences between languages, but what if the changes were not simply translation differences? What if they changed the meaning entirely?
When we compare the Green Book in 1993 to the Green Book in 2010, we find some curious changes.
The "Second Coming Jesus" Writes About the Future "Second Coming Jesus"?
Just to be clear, Ahn Sahng Hong never claimed anywhere in his writings to be Jesus Christ. Rather, it is the WMSCOG which claims he was the Second Coming of Jesus. Yet, we find that Ahn Sahng Hong in the 1993 version of his book, speaks about the future Second Coming of Jesus: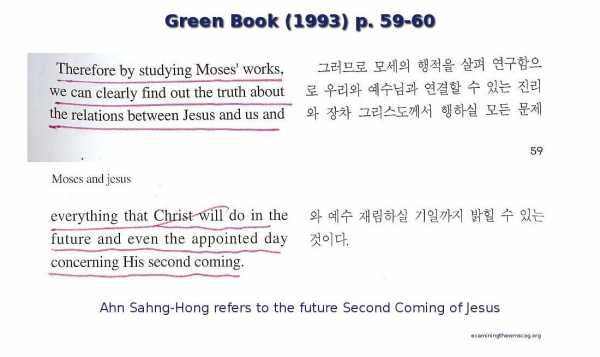 In the 2010 edition though, this language has been altered. The words "future" and "Second" have been removed. It's curious that these words which seem to go against the WMSCOG's claim that Ahn Sahng Hong was the Second Coming of Jesus Christ were the ones removed:

Ahn Sahng Hong clearly states in 1993 version of the book, that the Second Coming of Jesus will be in the future. This fits in line with the understanding that he believed himself to be the Prophet Elijah heralding in the last days and announcing the imminent return of the Second Coming of Jesus. After all, that's what his tombstone says. You can see the books side by side below, or if you want to jump to a high resolution version click here (1.1 MB) :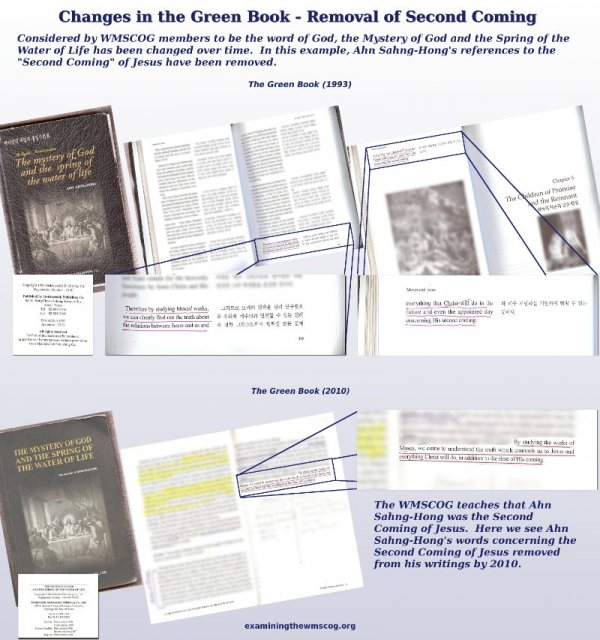 View or download the high res version here (1.1 MB)