The World Mission Society Church of God: Religious Freedom or Religious Fraud?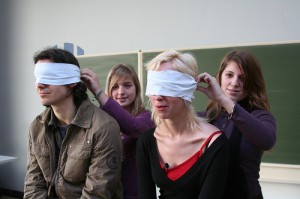 The United States Constitution affords all citizens the freedom to exercise the religion of their choosing. But when does a controversial religious organization such as the World Mission Society Church of God, cross the line from exercising the freedom of religion to committing religious fraud? Do potential members of the WMSCOG have enough information about the WMSCOG when they decide to join? Are potential members truly making an informed decision to join the World Mission Society Church of God? The World Mission Society Church of God's recruitment efforts seem to raise some red flags.
What WMSCOG Recruiters Do Not Tell You
WMSCOG recruiters often represent themselves as a group of students from the "

Elohim Academy

"

(WMSCOG Bible study program) instead of disclosing that they are members of the World Mission Society Church of God when approaching potential recruits in shopping malls, on college campuses, and in other heavily populated areas like midtown Manhattan. When questioned as to why WMSCOG members do not mention the name of their church when recruiting, a current WMSCOG member explained to me "

We don't want to turn the person off right away if they have already heard negative things about the church because they just won't listen

." Is it acceptable for WMSCOG members to misrepresent themselves like this in an effort to deceive people into listening to them?
WMSCOG recruiters will not disclose how much time is required of its members. Members are slowly pressured to spend more of their free time studying the Bible, recruiting new members, or working on various projects for the organization. Recruiters also fail to mention that members are required to spend their entire Saturday observing the Sabbath, and that numerous other "feast days" will be celebrated when members are required to take off from work and attend 5 am and 7:30 pm prayer services. I once asked a WMSCOG member why they do not explain this to new members and the response I got was,

"

If we told new brothers and sisters how much time they should spend in the church they wouldn't agree to join… they are too spiritually immature to understand… they need to be fed spiritual milk before solid food because as babies they will choke

." Should WMSCOG members decide what information should be disclosed to a potential or new member based on the concern that the person may not join? If information is withheld in this manner, the person is not making an informed decision as to whether or not to join the WMSCOG.
WMSCOG recruiters do not admit to the monetary requirements for membership in their organization. WMSCOG members are required to give 10% of their gross income for their "tithe" in addition to other

"freewill offerings"

.

New members study a number of lessons when they join. The "tithes and offerings" lesson is one of the last lessons they will be taught. Why is this requirement kept a secret until the member has spent a considerable amount of time studying approximately 10 other topics? Where does all of the money go? Why doesn't the WMSCOG distribute financial statements to its members like mainstream churches?
What do these WMSCOG members gain by purposely withholding information in order to recruit? From the answers I received from WMSCOG members, I would say new recruits!
If a WMSCOG recruiter approached you and asked, "Would you like to join my church? As members we give up most of our free time, spend countless hours in the church and give the church 10% of our money". Would you join? If someone was informed of the WMSCOG's requirements and decided to join, that person would be absolutely within his or her right to do so. However, I personally witnessed WMSCOG members, with intent, withhold information in order to recruit new unsuspecting members by disallowing them to make a real informed decision. A religious organization should not, and does not have the authority to decide when a person can handle and can not handle the truth about its requirements for membership. This is deceptive recruiting, and religious fraud, period.
*The photo above is licensed under the Creative Commons license, available here.