In the past, there has been some controversy over whether or not AhnSahngHong ever had children.  When I was a member of the World Mission Society Church of God, I was told on more than one occasion that AhnSahngHong was never married or had any children.  After some research into Ahnsahnghong's life, not only did I discover that he had established another church called AhnSahngHongs' Witnesses, now known as the New Covenant Passover Church of God, but that AhnSahngHong was in fact legally married to a woman named HwangWonSoon and had four children.
However, now it appears as though the WMSCOG openly admits that AhnSahngHong and ZhangGilJah had both been married and had children with their respective spouses.
Why Is This Important?
It seems as though the way that the WMSCOG describes AhnSahngHong's life to its members and what the actual evidence shows, just does not add up.  Let's take a look.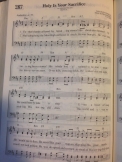 In the WMSCOG's New Song Book, a song titled "Holy Is Your Sacrifice" claims that AhnSahngHong,
"His whole body seemed to be shattered;  He could barely take a step."
A presumed WMSCOG member blog also describes AhnSahngHong's suffering and sacrifice:
"Father Ahnsahnghong climbed rough hills and mounts; no one knew He suffered all alone, searching for us. Every step, with pain, His whole body ached as He stumbled over stone, and He was feeble with weary legs. How much in pain Father Ahnsahnghong's feet were."
AhnSahnghong hardly suffered alone since as the documents shown below demonstrate, he was married and had four children.  AhnSahngHong also does not appear "feeble with weary legs" in this picture of him standing in a river nor in this picture of him swimming at the beach.
The lyrics of "Holy Is Your Sacrifice" then claim that AhnSahnghong,
"Even a bowl of soup he would sacrifice; He saved his poor wages, skipping his poor meals…He was hungry, He was cold, for thirty seven years." 
The same presumed member blog similarly goes on to say:
"Mountain water was His only meal…Even His food He spared for the sake of the children and we steam Him not."[sic] 
Yet, Ahnsahnghong is seen eating a meal with other members of his church that clearly includes plenty of solid food and AhnSahnghong is photographed standing behind his 3 tier birthday cake.
Clearly, there are a number of inconsistencies between the WMSCOG's portrayal of AhnSahngHong's life and the evidence that we have available.  Yet, another contradiction stands out.  WMSCOG General Pastor Joo Cheol Kim's view on family and love being "temptations of Satan" does not reflect AhnSahngHong's actions with respect to the same issues.  It is obvious that AhnSahngHong did not believe that family and love were temptations by the devil since he was married and decided to have four children.  It also is apparent that a marriage and four children did not interfere with AhnSahngHong's important work of establishing a new church, "restoring the Passover", and preaching to the public.  Three of his four children were born after AhnSahnghong's baptism into the Seventh Day Adventist Church on December 16, 1948.  You can see the proof in AhnSahngHong's official family census record below.
https://www.examiningthewmscog.com/media/interview-with-ahn-sahng-hongs-son/AhnSangHong-Family-Census-English_Redacted.pdf
https://www.examiningthewmscog.com/media/interview-with-ahn-sahng-hongs-son/AhnSangHong-Family-Census-Korean_Redacted.pdf