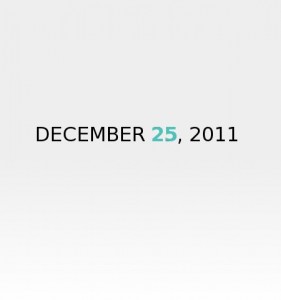 On Decemeber 25th, 2011 the World Mission Society Church of God (WMSCOG) celebrated Ahn Sahng-Hong's birthday.  The WMSCOG believes (incorrectly) that Ahn Sahng-Hong was the second coming of Jesus Christ.  Ahn being Jesus is clearly debunked elsewhere and on numerous other sites on the net, but what I found fascinating were two things:
The WMSCOG was out singing and celebrating in the streets on Dec 25, 2011 (see video below).
The WMSCOG doesn't celebrate Christmas.  In fact, they claim that those who do so are really doing something pagan (fyi, Christians took the day from the pagans and made it Christian in order to stamp out a pagan festival on the same day in an effort to spread Christianity–it seems to be working).
Then I came upon this great little quote by Chief Pastor Joo Cheol Kim:
"The church that celebrates the birth of Christ on December 25 is heretic."
– Joo Cheol Kim, Chief Pastor World Mission Society Church of God, My Sheep Listen To My Voice p. 115, © 2000 Melchizedek Publishing Co. Ltd.

Yep, that's right.  The World Mission Society Church of God held Ahn Sahng Hong's birthday celebration (or as they call it "Father's Coming Day") on December 25, 2011, but their Chief Pastor says that any church who does so is "heretic"?  By the way, it's spelled "heretical" for your next version when you update the book, if you don't end up taking it out altogether now that we've pointed it out to you.
First, Joo Cheol Kim says "family and love" are "temptations of Satan" and now this?  Sorry, WMSCOG.  Looks like all that vitriol is finally showing just how much it's worth.  Just another thing that doesn't add up.  You really can't make this stuff up folks.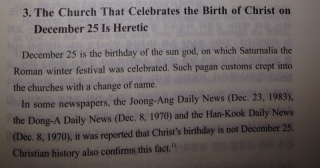 © 2000 Melchizedek Publishing Co. Ltd.
Have something to add?  Leave a short comment below, or say something substantial in our
discussion forum
.
The "December 25, 2011" image above was inspired by the end of the video by Lee Productions, an Alvin Lee Film.