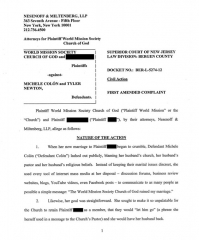 In July of 2012, the World Mission Society Church of God (
WMSCOG
) filed a second multi million dollar lawsuit, New Jersey #BER-L-5274-12, against a former member (you can read the first lawsuit
here
). Below are the relevant court documents. More documents will be posted as they become available.
On January 11, 2013 the judge granted the World Mission Society Church of God an opportunity to amend their original complaint to add Defendant Colón's husband as a Plaintiff and Newton as a Defendant.
Here is the amended complaint filed on January 28, 2013 in Bergen County, NJ.  You may read it in PDF or text format below.
The First Amended Complaint (PDF)
https://www.examiningthewmscog.com/media/court-cases/nj-ber-l-5274-12/WMSCOG-First-Amended-Complaint-Redacted-01-28-13.pdf