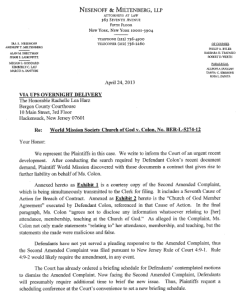 In July of 2012, the World Mission Society Church of God (
WMSCOG
) filed a second multi million dollar lawsuit, New Jersey #BER-L-5274-12, against a former member (you can read the first lawsuit
here
). Below are the relevant court documents. More documents will be posted as they become available.
On 04/24/13, Plaintiff World Mission Society Church of God amended their complaint for a second time.
Here is the Second Amended Complaint filed on 04/24/13.  You may read it in PDF or text format below.
The Second Amended Complaint (PDF)
https://www.examiningthewmscog.com/media/court-cases/nj-ber-l-5274-12/WMSCOG-Second-Amended-Complaint-Redacted-04-24-13.pdf