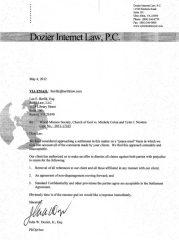 In December of 2011, the World Mission Society Church of God (
WMSCOG
) filed a
$25 million lawsuit
against the owner of this website and a former member claiming defamation among other things. Below are the relevant court documents. As you know, everything posted here on examiningthewmscog.com is well researched, well cited, and truthful to the best of my abilities (if it were not, it would be promptly corrected). More documents will be posted as they become available.
In response to Plaintiff WMSCOG's Settlement Request on 05/02/12, Defendant Newton offered to look at the possibility of taking down particular statements the Plaintiff complained of in its original Complaint.  This was, apparently, not good enough.  On 05/04/12, Plaintiff WMSCOG extended the following settlement offer to Defendent Newton in exchange for dropping its $25 million lawsuit, which required not only the taking down of the complained-of statements but also:
The removal of all statements related to the WMSCOG whatsoever, even those not complained-of in the original lawsuit
Agreement to not criticize the WMSCOG in the future
Agreement to not tell anyone about the arrangement
You may read the offer in PDF or text format below:
WMSCOG vs Colon, Newton - VA Case #2011-17163
Timeline
WMSCOG Settlement Offer (PDF)
https://www.examiningthewmscog.com/media/court-cases/va-2011-17163/WMSCOG-Settlement-Offer-05-04-12.pdf
Download this PDF [138 kB]
WMSCOG Settlement Offer (Text)
Dozier Internet Law, P.C,
11520 Nuckols Road
Suite 101
Glen Allen, VA 23059
Phone: (804) 346-9770
Fax: (804) 346-0800
[url]
Dozier Internet Law, P.C.
May 4, 2012
VIA EMAIL:  [e-mail]
Mr. Lee E. Berlik
BerlikLaw, LLC
1818 Library Street
Suite 500
Reston, VA 20190
Re:       World Mission Society, Church of God vs. Michele Colon and Tyler J. Newton
Case No. 2011-­17163
Dear Lee:
We have considered approaching a settlement in this matter on a "peace-meal" basis in which we took into account all of the comments made by your clients. We find this approach untenable and unacceptable.
Our-client has authorized us to make an offer to dismiss all claims against both parties with prejudice in return for the following:
Removal of all references to our client and all those affiliated in any manner with our client;
An agreement of non-­disparagement moving forward; and
Standard Confidentiality and other provisions the parties agree are acceptable in the Settlement Agreement.
Obviously, time is of the essence and we would like a response immediately.
Sincerely,
[Signature]
John W. Dozier Jr., Esq.
JWDjr/lwc
---
This document is part of a larger court case filed against this site and a former member by the World Mission Society Church of God (WMSCOG) in Dec 2011. For more documents from the court case see the timeline below:
WMSCOG vs Colon, Newton - VA Case #2011-17163
Timeline