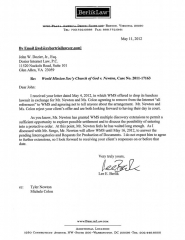 In December of 2011, the World Mission Society Church of God (
WMSCOG
) filed a
$25 million lawsuit
against the owner of this website and a former member claiming defamation among other things. Below are the relevant court documents. As you know, everything posted here on examiningthewmscog.com is well researched, well cited, and truthful to the best of my abilities (if it were not, it would be promptly corrected). More documents will be posted as they become available.
On 05/11/12, Defendant Newton refused Plaintiff WMSCOG's Settlement Offer extended on 05/04/12.
You may read it in PDF or text format below.
WMSCOG vs Colon, Newton - VA Case #2011-17163
Timeline
Newton Response to WMSCOG Settlement Offer (PDF)
https://www.examiningthewmscog.com/media/court-cases/va-2011-17163/Newton-Response-to-WMSCOG-Settlement-Offer-05-11-12.pdf
Download this PDF [77 kB]
Newton Response to WMSCOG Settlement Offer (Text)
May 11, 2012
By Email [e-mail address]
John W. Dozier, Jr., Esq.
Dozier Internet Law, P.C.
11520 Nuckols Road, Suite 101
Glen Allen, VA 23059
Re: World Mission Soc'y Church of God v. Newton, Case N0. 2011-17163
Dear John:
I received your letter dated May 4, 2012, in which WMS offered to drop its baseless lawsuit in exchange for Mr. Newton and Ms. Colon agreeing to remove from the Internet "all references" to WMS and agreeing not to tell anyone about the arrangement.  Mr. Newton and Ms. Colon reject your elient's offer and are both looking forward to having their day in court.
As you know, Mr. Newton has granted WMS multiple discovery extensions to permit a sufficient opportunity to explore possible settlement and to discuss the possibility of entering into a protective order.  At this point, Mr. Newton feels he has waited long enough.  As I discussed with Mr. Szego, Mr. Newton will allow WMS until May 16, 2012, to answer the pending Interrogatories and Requests for Production of Documents.  I do not expect him to agree to further extensions, so I look forward to receiving your client's responses on or before that date.
Very truly yours,
[Signature]
Lee E. Berlik
cc: Tyler Newton
Michele Colon
www.BerlikLaw.com
ADDITIONAL LOCATION:
1250 CONNECTICUT AVENUE. NW • SUITE 200 • WASHINGTON DC 20086 • 202.449.8555