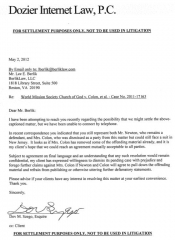 In December of 2011, the World Mission Society Church of God (
WMSCOG
) filed a
$25 million lawsuit
against the owner of this website and a former member claiming defamation among other things. Below are the relevant court documents. As you know, everything posted here on examiningthewmscog.com is well researched, well cited, and truthful to the best of my abilities (if it were not, it would be promptly corrected). More documents will be posted as they become available.
On 05/02/12, Plaintiff WMSCOG extended a settlement request to Defendant Newton.  You may read it in PDF or text format below:
WMSCOG vs Colon, Newton - VA Case #2011-17163
Timeline
WMSCOG Settlement Request (PDF)
https://www.examiningthewmscog.com/media/court-cases/va-2011-17163/WMSCOG-Settlement-Request-05-02-12.pdf
Download this PDF [60 kB]
WMSCOG Settlement Request (Text)
Dozier Internet Law, P.C,
11520 Nuckols Road
Suite 101
Glen Allen, VA 23059
Phone: (804) 346-9770
Fax: (804) 346-0800
[url]
Dozier Internet Law, P.C.
FOR SETTLEMENT PURPOSES ONLY, NOT TO BE USED IN LITIGATION
May 2, 2012
By Email only to: [e-mail]
Mr. Lee E. Berlik
BerlikLaw, LLC
1818 Library Street, Suite 500
Reston, VA 20190
Re:       World Mission Society Church of God v. Colon, et al.- Case No. 2011-­17163
I have been attempting to reach you recently regarding the possibility that we might settle the above-captioned matter, but we have been unable to connect by telephone.
In recent correspondence you indicated that you still represent both Mr. Newton, who remains a defendant, and Mrs. Colon, who was dismissed as a party from this matter but could still face a suit in New Jersey.  It looks as if Mrs. Colon has removed some of the offending material already, and it is my client's hope that we could reach an agreement mutually acceptable to all parties.
Subject to agreement on final language and an understanding that any such resolution would remain confidential, my client has expressed willingness to dismiss its pending case with prejudice and forego further claims against Mrs. Colon if Newton and Colon will agree to pull down the offending material and refrain from publishing or otherwise uttering further defamatory statements.
Please advise if your clients have any interest in resolving this matter at your earliest convenience.
Thank you.
Sincerely,
[Signature]
Dov M. Szego, Esquire
cc: Client
FOR SETTLEMENT PURPOSES ONLY, NOT TO BE USED IN LITIGATION
---
This document is part of a larger court case filed against this site and a former member by the World Mission Society Church of God (WMSCOG) in Dec 2011. For more documents from the court case see the timeline below:
WMSCOG vs Colon, Newton - VA Case #2011-17163
Timeline