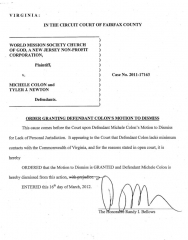 In December of 2011, the World Mission Society Church of God (
WMSCOG
) filed a
$25 million lawsuit
against the owner of this website and a former member claiming defamation among other things. Below are the relevant court documents. As you know, everything posted here on examiningthewmscog.com is well researched, well cited, and truthful to the best of my abilities (if it were not, it would be promptly corrected). More documents will be posted as they become available.
This is the Court's order issued on 03/16/12 in response to Defendant Colón's Motion to Dismiss filed on 01/30/12.  You may read it in PDF or text format below:
WMSCOG vs Colon, Newton - VA Case #2011-17163
Timeline
Court Order on Colón Motion to Dismiss (PDF)
https://www.examiningthewmscog.com/media/court-cases/va-2011-17163/Court-Order-on-Colon-Motion-To-Dismiss-03-16-12.pdf
Download this PDF [93 kB]
Court Order on Colón Motion to Dismiss (Text)
VIRGINIA :
IN THE CIRCUIT COURT OF FAIRFAX COUNTY
_______________________________________________________
WORLD MISSION SOCIETY CHURCH
OF GOD, A NEW JERSEY NON-PROFIT
CORPORATION,
Plaintiff,        Case No.:  2011-17163
v.
MICHELE COLON AND
TYLER J. NEWTON
Defendants
_______________________________________________________
ORDER GRANTING DEFENDANT COLON'S MOTION TO DISMISS
This cause comes before the Court upon Defendant Michele Colon's Motion to Dismiss for Lack of Personal Jurisdiction. It appearing to the Court that Defendant Colon lacks minimum contacts with the Commonwealth of Virginia, and for the reasons stated in open court, it is hereby
ORDERED that the Motion to Dismiss is GRANTED and Defendant Michele Colon is hereby dismissed from this action, with prejudice.
ENTERED this 16th day of March, 2012.
[Signature]
The Honorable Randy I. Bellows
I ASK FOR THIS:
[Signature]
Lee E. Berlik (Va. Bar No. 39609)
Ber1ikLaw, LLC
11710 Plaza America Drive
Suite 120
Reston, Virginia 20190
Tel: (703) 7220588
Fax: (888) 7720161
[E-mail]
Counsel for Defendants
SEEN:
[Appeared by court call]
John W. Dozier, Jr.
Dozier Internet Law
11520 Nuckols Road Ste 101
Glen Allen, VA 23059
Counsel for Plaintiff
---
This document is part of a larger court case filed against this site and a former member by the World Mission Society Church of God (WMSCOG) in Dec 2011. For more documents from the court case see the timeline below:
WMSCOG vs Colon, Newton - VA Case #2011-17163
Timeline