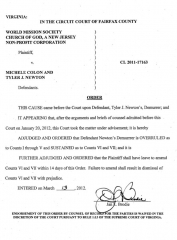 In December of 2011, the World Mission Society Church of God (
WMSCOG
) filed a
$25 million lawsuit
against the owner of this website and a former member claiming defamation among other things. Below are the relevant court documents. As you know, everything posted here on examiningthewmscog.com is well researched, well cited, and truthful to the best of my abilities (if it were not, it would be promptly corrected). More documents will be posted as they become available.
This is the Court's order issued on 03/13/12 in response to Defendant Newton's demurrer filed on 01/06/12 .  You may read it in PDF or text format below:
WMSCOG vs Colon, Newton - VA Case #2011-17163
Timeline
Court Order on Newton Demurrer (PDF)
https://www.examiningthewmscog.com/media/court-cases/va-2011-17163/Court-Order-on-Newton-Demurrer-03-13-12.pdf
Download this PDF [85 kB]
Court Order on Newton Demurrer (Text)
VIRGINIA :
IN THE CIRCUIT COURT OF FAIRFAX COUNTY
_______________________________________________________
WORLD MISSION SOCIETY
CHURCH OF GOD, A NEW JERSEY
NON-PROFIT CORPORATION
Plaintiff,        CL  2011-17163
v.
MICHELE COLON AND
TYLER J. NEWTON
Defendants
_______________________________________________________
ORDER
THIS CAUSE came before the Court upon Defendant, Tyler J. Newton's, Demurrer; and
IT APPEARING that, after the arguments and briefs of counsel admitted before this Court on January 20, 2012, this Court took the matter under advisement; it is hereby
ADJUDGED AND ORDERED that Defendant Newton's Demurrrer is OVERRULED as to Counts I through V and SUSTAINED as to Counts VI and VII; and it is
FURTHER ADJUDGED AND ORDERED that the Plaintiff shall have leave to amend Counts VI and VII within 14 days of this Order.  Failure to amend shall result in dismissal of Counts VI and VII with prejudice.
ENTERED on March 13 ,2012.
[Signature]
Jan L. Brodie
ENDORSEMENT OF THIS ORDER BY COUNSEL OF RECORD FOR THE PARTIES IS WAIVED IN THE DISCRETION OF THE COURT PURSUANT TO RULE 1:13 OF THE SUPREME COURT OF VIRGINIA.
---
This document is part of a larger court case filed against this site and a former member by the World Mission Society Church of God (WMSCOG) in Dec 2011. For more documents from the court case see the timeline below:
WMSCOG vs Colon, Newton - VA Case #2011-17163
Timeline