World Mission Society Church of God IRS Tax Exempt Application Ridgewood, NJ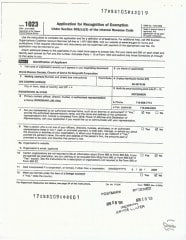 Below is the application for tax exempt status that the World Mission Society Church of God in Ridgewood, NJ submitted to the IRS in 2008. Click here for more information on the application process and how to request your own copy of the application filed by the WMSCOG directly from the IRS. Just as other publicly available financial documents have raised numerous questions, the WMSCOG's application for tax exempt status in New Jersey did not disappoint.
IRS Form 1023 WMSCOG New Jersey
Page 2
The application submitted by the World Mission Society Church of God lists the trustees as Joo Cheol Kim, Dong Il Lee (a.k.a. pastor Daniel Lee) and Bong Hee Lee (a.k.a. Betty Lee, Dong Il Lee's wife).
Page 3
Line 2a asks if any of the trustees are related to each other by family or business. The WMSCOG checked "no," but two of the trustees, Dong and Bong Lee, are husband and wife.
Page 5
Section VIII, line 1 asks if the organization supports or opposes political campaigns in any way. The WMSCOG checked "no." This section specifically asks about "past, present and planned activities" in the description. It is a violation of the Johnson Amendment for a church to endorse or oppose a political campaign. Public records demonstrate that the World Mission Society Church of God, (under "World Mission Society Inc") made a donation to a New Jersey gubernatorial campaign in 2004 in the amount of $2600. Were the members aware that their donations to the church would be used to support a political campaign? Highly unlikely.
WMSCOG-political-donation

It just so happens that Big Shine Worldwide, Inc. (owned by NJ pastor Dong Il Lee, a.k.a. Daniel Lee) also made a donation in the amount of $2600 to the same gubernatorial campaign. Is this pure coincidence? Also, unlikely. Presumably, Dong Il Lee as the owner of Big Shine Worldwide, Inc and trustee/lead pastor of the WMSCOG on the east coast, would have been the individual who authorized both checks.
Big-Shine-Political-Campaign-Donation

Page 6
Line 4a asks "do you or will you undertake fundraising?" The WMSCOG checked "no." Below is proof that the WMSCOG has engaged in solicitation of donations. The WMSCOG even offered their sponsors promotions on their New Song Radio Station 89.1 WFDU in exchange for donations.
Donation-Request

Page 7
Line 13a asks "Do you or will you make grants, loans, or other distributions to organization(s)?" The WMSCOG answered "no." Yet on page 9, line 15, the WMSCOG claimed to have disbursed the following amounts in contributions, gifts or grants:
| 2008 | 2009 | 2010 |
| --- | --- | --- |
| $400,000 | $850,000 | $1,000,000 |
The WMSCOG was required to attach a list detailing these disbursements but failed to do so.
Page 8
Line 15 asks "Do you have a close connection with any organizations?" The WMSCOG checked "no." What about their connection to the WeLoveU Foundation, ASEZ, and other front groups? What about their close connection with the General Assembly in South Korea?
Page 13–Schedule A Churches
Line 1a asks if the WMSCOG has "a written creed, statement of faith, or summary of beliefs?" The WMSCOG answered "no." Anyone who has been a member or encountered a current member of the WMSCOG knows that they do have a specific set of beliefs. Why did the WMSCOG choose to omit this information? Was it perhaps to avoid having to "attach copies of relevant documents" as required if they had answered "yes?"
Line 2b asks "Do you have a distinct religious history? If "Yes," describe your religious history." Again, the WMSCOG answers "no." Yet, the WMSCOG claims to have been founded by a man they believe was the Second Coming of Christ, to be the only true church, the only path to salvation through their "mother god", the only protection from disasters and including but not limited to the only church that follows the teachings of the Bible. If the WMSCOG believes that they are so special, why did they answer "no?"
On line 4b, the WMSCOG claims to have an average attendance of 300 people during regularly scheduled services, but claims to only have 100 members on line 7. In the WMSCOG, nonmembers (non-baptized members) are rarely allowed to attend regular services. So how then, do the non-member attendees out number the members by 3 to 1 during services? Current members and former members reading this will know that this would not be possible. The WMSCOG controls who attends services and who does not and members of the community are not welcome to just walk in and have a seat during a regularly scheduled service.
Line 11b asks, "Do you have schools for the preparation of your ordained ministers or religious leaders?" The WMSCOG answered "no." Yet, the World Mission Society Church of God claims to have a Theological Seminary to "educate pastoral staff."
Line 12 asks, "Is your minister or religious leader also one of your officers, directors, or trustees?" The WMSCOG answered "no" despite New Jersey's head pastor Dong Il Lee's name clearly listed as a trustee on page 2.
Line 14 asks, "Are you part of a group of churches with similar beliefs and structures?" The WMSCOG answered "no." Yet, the World Mission Society Church of God claimed to have churches in 150 countries in 2011 (see paragraph 12) and churches in 175 countries as of April, 2020. Why the discrepancy?
Narrative Description of Religious Activities
This one page summary is worth the read, but of particular interest is the WMSCOG's claim that:
Sundays are usually spent doing activities to glorify the Lord (such as attending near by soup kitchens and helping out, visiting the elderly in nursing homes, cleaning up trash around the community and nearby parks, giving out pamphlets to non-believers around the community, etc.) and to enjoy fellowship amongst the congregation. (30%)
Current and former members reading this will know that Sundays are predominantly for "Preaching Assembly." Members typically gather in the church on Sunday mornings before going out in groups to recruit new members. Also of interest is that recruiting is not mentioned as an activity that takes place on any other day. Members are encouraged to attempt to recruit (or preach) new members every day, sometimes even in between services on Saturday.
Conflict of Interest Policy
How can this policy be taken seriously when it was copied word for word from this sample conflict of interest policy that is available online? It cannot, and there is nothing more to say about that.
Conclusion
The above application for tax exempt status includes an insurmountable number of inaccuracies and blatantly false statements. The World Mission Society Church of God claims to be lead by the "mother god" and when you claim to have god running your church, there is no room for errors. Therefore, the WMSCOG cannot claim to blame the accountant. Especially when the application was signed by pastor and trustee Dong Il Lee. Why didn't Zahng Gil Jah attempt to correct any of the applications the WMSCOG submitted to the IRS in California, Illinois or New Jersey? The answer is simple. The WMSCOG is a deceptive cult that thrives in secrecy and Zahng Gil Jah is not god.
1023-Ridgewood-NJ