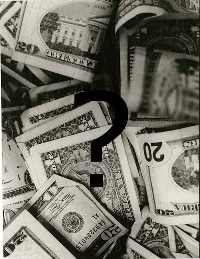 World Mission Society Church Of God members, although many will not admit to it, give 10% of their gross pay to the organization in addition to other "free will offerings".  The few members that admit that there is a 10% tithe requirement say that they give it because it is God's law.  Interestingly I can not find this requirement in the New Testament.  The Apostle Paul writes:
On the first day of the week let each one of you lay something aside, storing up as he may prosper, that there be no collections when I come.
So where is 10% in the New Testament? It simply isn't there. That went away with the Old Law when Christ instituted the New Covenant.
When I was a member, there was no financial transparency at the WMSCOG. The WMSCOG did not distribute an annual statement to members consisting of donations and how the funds were allocated like many other churches do. So how do the members know how their money is being spent? When I was a member of the WMSCOG, the members paid for and cooked the food served on the Sabbath and other days of the week. The members also paid for their own trips to Korea and other "preaching mission" (recruiting) trips. The WMSCOG also claimed that they did not pay any of the pastors, deacons, or missionaries a salary, but the California application for tax exempt status says otherwise. The lack of financial transparency was definitely a problem for me and many other former members.
Update: In 2015, the World Mission Society Church of God in New Jersey was ordered by the Court to produce financial statements. To view these statements click here.
*The photo above is licensed under the Creative Commons license, available here.