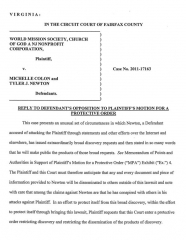 In December of 2011, the World Mission Society Church of God (
WMSCOG
) filed a
$25 million lawsuit
against the owner of this website and a former member claiming defamation among other things. Below are the relevant court documents. As you know, everything posted here on examiningthewmscog.com is well researched, well cited, and truthful to the best of my abilities (if it were not, it would be promptly corrected). More documents will be posted as they become available.
On 06/27/12, Plaintiff WMSCOG filed the following Reply to Defendant Newton's Opposition to Plaintiff WMSCOG's Motion for a Protective Order filed on 06/20/12.  You may view it in PDF format below.
WMSCOG vs Colon, Newton - VA Case #2011-17163
Timeline
WMSCOG Reply to Newton Opposition to WMSCOG Motion for Protective Order (PDF)
https://www.examiningthewmscog.com/media/court-cases/va-2011-17163/WMSCOG-Reply-to-Newton-Opposition-to-WMSCOG-Protective-Order-06-27-12.pdf
Download this PDF [330 kB]
VIRGINIA:
IN THE CIRCUIT COURT OF FAIRFAX COUNTY
_______________________________________________________
WORLD MISSION SOCIETY CHURCH
OF GOD, A NEW JERSEY NON-PROFIT
CORPORATION,
Plaintiff,                                                                        Case No.: 2011-17163
              v.
MICHELE COLON and 
TYLER J. NEWTON
Defendants.
_______________________________________________________
REPLY TO DEFENDANT'S OPPOSITION TO PLAINTIFF'S MOTION FOR A PROTECTIVE ORDER
This case presents an unusual set of circumstances in which Newton, a Defendant accused of attacking the Plaintiff through statements and other efforts over the Internet and elsewhere, has issued extraordinarily broad discovery requests and then stated in so many words that he will make public the products of those broad requests.  See Memorandum of Points and Authorities in Support of Plaintiffs Motion for a Protective Order ("MPA") Exhibit ("Ex.") 4.  The Plaintiff and this Court must therefore anticipate that any and every document and piece of information provided to Newton will he disseminated to others outside of this lawsuit and note with care that among the claims against Newton are that he has conspired with others in his attacks against Plaintiff.  In an effort to protect itself from this broad discovery, within the effort to protect itself through bringing this lawsuit, Plaintiff requests that this Court enter a protective order restricting discovery and restricting the dissemination of the products of discovery.
In Defendants Opposition to Plaintiffs Motion for a Protective Order ("Opp.") Newton first conflates the two issues pending on this Motion – whether the discovery should be had in the first place and whether a protective order should be entered – and then assumes away both issues by arguing that the fruits of discovery, in the absence of a protective order, are public.
I. ARGUMENT
A. The Discovery Issued bv Newton Should be Quashed or Limited by This Court
Newton complains that the breadth of his discovery is a result of the breadth of Plaintiffs Complaint, ignoring that Plaintiff was required to, and did, identify specific defamatory statements, and that Plaintiffs allegations have survived a Motion to Dismiss for failure to state a claim.  Newton was able to quote specific allegedly false statements made by him from the Complaint (See Opp. at 3-4) but, on the other hand, has not narrowed his discovery to seek any basis for arguing these particular statements to be true.1  While truth is a defense to defamation there is no justification for imposing the undue burden of demanding in discovery, for example, the names of every member of Plaintiff ­church ever.  See e. g. Wagner v. Wagner, 71 Va. Cir. 334 (Cir. Ct. P.G. Cty. Aug. 2, 2006) (Narrowing a discovery request to specific individuals rather than including "anyone else."').  The U.S. Supreme Court has held, regarding FRCP Rule 26, to which Newton analogizes Virginia Rule 4:1 (Opp. at 2), that "Rule 26 vests the trial judge with broad discretion to tailor discovery narrowly and to dictate the sequence of discovery," (Crawford-El V. Britton, 523 U.S. 574, 598 (1998)), and Rule 4:1(b)(1) of the Rules of the
_______________________________________________________
1 Newton argues in a footnote that because truth is a defense, "the ability to prove truth at the time a statement is made" is unimportant.  Opp. at 4, n. 3.  This argument demonstrates the "fishing expedition" inherent in the discovery requests by Newton.  Because he has not inquired regarding specific instances or individuals to prove the truth of his statements, he is casting an impermissibly broad net, unduly burdensome to Plaintiff and directed to uninvolved third parties.  Rule 4:l(b)(1) of the Rules of the Supreme Court of Virginia requires that discovery "shall be limited" if "the discovery is unduly burdensome."  It is not, as Newton argues, an issue of the burden of proof but rather an issue of the desperate breadth and resulting undue burden that require the Court to quash or narrow the discovery issued by him under Rule 4:1(b)(1) of the Rules of the Supreme Court of Virginia in this matter.
Supreme Court of Virginia requires that discovery "Shall be limited' if "the discovery is unduly burdensome."
Newton's argument is that his incredibly broad discovery requests are needed to prove his affirmative defense of the truth of his statements.  Newton does not, however, either in his Answer, discovery requests, or his Opposition to Plaintiffs Motion, identify specific things required for the proof of specific statements.  For example, Newton does not identify specific individuals for Whom he requires information to prove his allegations regarding Plaintiffs practices or mistreatment of individuals, or specific transactions regarding which he requires records to prove the truth of his tax, expense and other financial … allegations.  The clear implication is that Newton had no factual basis for his allegations when he made them and that he now seeks desperately to canvass the people who would be identified in discovery in a "fishing expedition" to make his burden of proving the truth of his statements their burden, and a tax upon them and the Plaintiff for bringing this suit.  Wagner, supra, Northern Va. Cmty. Hosp., L.L.C. v. Loudoun County Bd. of Supervisors, 72 Va. Cir, 174, 178 (Ldn. Cty. Cir. Ct. 2006) ("Discovery is not to be used as a 'fishing expedition."').  If this discovery isn't facially overbroad and unduly burdensome, and Plaintiff argues that it is, the fact that it requires
Plaintiff to provide information for literally thousands of unrelated third parties makes it clearly overbroad and unduly burdensome in practice.
B. Plaintiff has Made the Necessary Showings of Both Good Cause and Harm
As cited in Plaintiffs MPA, the Virginia Supreme Court and the U.S. Supreme Court have both noted that "[l]iberal discovery is provided for the sole purpose of assisting in the preparation and trial, or the settlement, of litigated disputes."  Shenandoah Pub. House, Inc. v. Fanning, 235 Va 253, 260-261; 368 S.E.2d 253, 257 (quoting Seattle Times C0. v. Rhinehart, 467 U.S. 20, (1984)) (emphasis added). These courts recognize that "[t]he prevention of the abuse that can attend the coerced production of information under a state's discovery rule is sufficient justification for the authorization of protective orders." Id.  (Emphasis added).  The parties appear to disagree whether, as a result of these pronouncements by the U.S. Supreme Court and the Virginia Supreme Court, the abuse of discovery through release of private information is "good cause."  The cases cited by Newton are inapposite, if only because each case includes either entry of a protective order, challenge to a protective order previously
granted, or remand for additional consideration and entry of a suitable protective order.
The documents and information sought by Newton are not publicly available (or that would be another basis for objection), and will not be provided to Newton if this Court's coercive authority is not brought to bear.  "Sole purpose" is not an ambiguous term, and in the face of a stated intent by Newton to use discovery other than for its sole legitimate purpose, good cause is shown.
Apart from protecting Plaintiff from overly broad and unduly burdensome discovery requests, the good cause asserted by Plaintiff in support of its Motion for a Protective Order is the protection of unrelated, unrepresented third parties and prevention of abuse of the discovery process b Newton to advance his conspiratorial campaign to defame and otherwise harm the Plaintiff.  One of the specific harms from which Plaintiff seeks protection is this disclosure, precisely because of the nature of the claims in this case.  It beggars belief that Newton will call thousands of current and former members of the Plaintiff-church, or that the breadth of financial documents, including every donation made over a period of years, will be combed for ex post facto evidence of financial misdeeds by Plaintiff.  The only purpose for which Newton seeks this broad information is to pass it along to his co-conspirators and the individuals associated with Exhibit A to Opp., to punish Plaintiff for bringing this lawsuit. Assuming, arguendo, that the discovery is to be had, any arguable legitimate purposes can be served Without further disclosure of information obtained through discovery.
II. CONCLUSION
For the foregoing reasons and those stated in its Memorandum of Points and Authorities in Support of Plaintiff' s Motion for a Protective Order, Plaintiff respectfully requests that this Court quash or limit Defendants discovery requests as requested and enter the requested protective order.
Respectfully submitted,
Dated:  6/26/12
WORLD MISSION SOCIETY, CHURCH OF GOD A NJ NONPROFIT CORPORATION
By:  [Signature]
John W. Dozier, Jr., Esq., VA Bar # 20559
Dov M. Szego, Esq., VA Bar # 44586
Dozier Internet Law, P.C.
ll520 Nuckols Road, Suite 101
Glen Allen, VA 23059
Tel:  (804) 346-9770
Fax:  (804) 346-0800
email: [email protected]
Attorneys for Plaintiff World Mission Society, Church of God a NJ Nonprofit Corporation
CERTIFICATE OF SERVICE
I hereby certify that on this 26th day of June, 2012, the foregoing REPLY TO DEPENDANTS OPPOSITION TO PLAINTIFF'S MOTION FOR A PROTECTIVE ORDER was transmitted to Lee E. Berlik, Esquire, Counsel for Defendants, via email to v [email protected] and was deposited with the United States Postal Service as First Class Mail, postage prepaid, in an envelope addressed to: Lee E. Berlik, BerlikLaw, LLC, 1818
Library Street, Suite 500, Reston, VA 20190.
[Signature]
Dov M. Szego, Esq.
---
This document is part of a larger court case filed against this site and a former member by the World Mission Society Church of God (WMSCOG) in Dec 2011. For more documents from the court case see the timeline below:
WMSCOG vs Colon, Newton - VA Case #2011-17163
Timeline