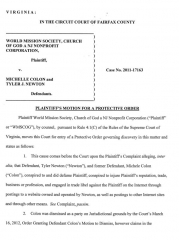 In December of 2011, the World Mission Society Church of God (
WMSCOG
) filed a
$25 million lawsuit
against the owner of this website and a former member claiming defamation among other things. Below are the relevant court documents. As you know, everything posted here on examiningthewmscog.com is well researched, well cited, and truthful to the best of my abilities (if it were not, it would be promptly corrected). More documents will be posted as they become available.
On 05/18/12, Plaintiff WMSCOG filed a motion for a Protective Order to govern their responses to Defendant Newton's Interrogatories and Requests for Production of Documents. You may read it in PDF or text format below.
WMSCOG vs Colon, Newton - VA Case #2011-17163
Timeline
WMSCOG Motion for Protective Order (PDF)
https://www.examiningthewmscog.com/media/court-cases/va-2011-17163/WMSCOG-Motion-For-Protective-Order-05-18-12.pdf
Download this PDF [1.5MB]
WMSCOG Motion for Protective Order (Text)
VIRGINIA:
IN THE CIRCUIT COURT OF FAIRFAX COUNTY
_______________________________________________________
WORLD MISSION SOCIETY CHURCH
OF GOD, A NEW JERSEY NON-PROFIT
CORPORATION,
Plaintiff,                                                                        Case No.: 2011-17163
              v.
MICHELE COLON and
TYLER J. NEWTON
Defendants.
_______________________________________________________
PLAINTIFF'S MOTION FOR A PROTECTIVE ORDER
Plaintiff World Mission Society, Church of God a NJ Nonproñt Corporation or "WMSCOG"), by counsel, pursuant to Rule 4:l(C) of the Rules of the Supreme Court of Virginia, moves this Court for entry of a Protective Order governing discovery in this matter and states as follows:
This cause comes before the Court upon the Plaintiffs Complaint alleging, inter alia, that Defendant, Tyler Newton ("Newton"), and former Defendant, Michele Colon ("Colon"), conspired to and did defame Plaintiff, conspired to injure Plaintiff's reputation, trade, business or profession, and engaged in trade libel against the Plaintiff on the Internet through postings to a website owned and operated by Newton, as well as postings to other Internet sites and through other means.  See Complaint, passim.
Colon was dismissed as a party on Jurisdictional grounds by the March 16, 2012, Order Granting Defendant Colon's Motion to Dismiss, however claims in the Complaint alleging a conspiracy between Colon and Newton against the Plaintiff survived Newton's Demurrer in this Court's March 13, 2012, Order addressing that Demurrer.
Newton has issued discovery requests (Exhibits 1 and 2) seeking a broad range of private, confidential, and proprietary information and documents from Plaintiff, including, but not limited to, financial information such as bank statements, payroll information, and balance
sheets, lists of names, addresses, and other contact information for current members, former members, and Church leadership, and other such information.  These requests seek information not only about the Church itself, but also about third parties, and about business and financial information regarding business ownership and unrelated employment of third parties and Church leadership.
Plaintiff takes the position that, for the most part, this information is not reasonably calculated to lead to the discovery of admissible evidence, and is overbroad and unduly burdensome.
Plaintiff is also concerned that Newton will use the information sought to further his campaign of attacking Plaintiff over the Internet and elsewhere, and will disseminate this information to like­-minded individuals outside the jurisdiction of this Court, including, and especially, Colon.
Particularly with respect to business and financial information, names, addresses, phone numbers and other Contact information there is considerable risk that not only Church leadership, but also entirely unrelated third parties, will their personal information uploaded to the Internet and will be harassed by Defendant, and by individuals outside the Court's jurisdiction, including Colon. In fact, the nature of this case, i.e. a conspiracy to perpetrate defamation and other harms against the Plaintiff using the Internet, makes such harm particularly likely.
There is no legitimate need for the information sought or received by either party to be disseminated beyond the parties, their counsel, and an extremely small group of potential experts, and Plaintiff further represents that there is no need to disseminate financial information or the Contact information of potential witnesses beyond counsel.
The parties conferred regarding the entry of a Protective Order, however Newton indicated through counsel that he "fully intends to share with the public any information he receives about the church that he feels the public would benefit from hearing."
Rule 4:1(c) permits this Court to "make any order which justice requires to protect a party or person from annoyance, embarrassment, oppression, or undue burden or expense. . ."
WHEREFORE, your Plaintiff, by counsel, respectfully requests that this Court enter a Protective Order:
Providing that the discovery sought by Newton not be had or in the alternative ordering the narrowing of the scope of required responses to information reasonably calculated to lead to the discovery of admissible evidence;
Restricting dissemination of the discovery sought to the parties and their counsel and retained experts, and further restricting the release of financial information, business records and information, and names and Contact information for prospective witnesses, only to counsel;
Specifically precluding dissemination of the discovery sought to Michele Colon; and
Granting such other and further relief as this Court may deem proper and just.
Respectfully submitted,
Dated:  5/16/12
WORLD MISSION SOCIETY, CHURCH OF GOD A NJ NONPROFIT CORPORATION
By:  [Signature]
John W. Dozier, Jr., Esq.
VA Bar # 20559
Dozier Internet Law, P.C.
ll520 Nuckols Road, Suite 101
Glen Allen, VA 23059
Tel:  [phone]
Fax:  [fax]
email: [e-mail]
Attorneys for Plaintiff World Mission Society, Church of God a NJ Nonprofit Corporation
CERTIFICATE OF SERVICE
I hereby certify that on this 16th day of May, 2012, the foregoing PLAINTIFF'S FIRST OBJECTIONS AND RESPONSES TO DEFENDANT TYLER NEWTON'S FIRST SET OF REQUESTS FOR PRODUCTION OF DOCUMENTS was transmitted to Lee E. Berlik, Esquire, Counsel for Defendants, via email to [e-mail] and was deposited with the United States Postal Service as First Class Mail, postage prepaid, in an envelope addressed to:
Lee E. Berlik
BerlikLaw, LLC
1818 Library Street, Suite 500
Reston, VA  20190
[Signature]
John W. Dozier, Jr., Esq.
Dozier Internet Law, P.C.
11520 Nuckols Road, Suite 101
Glen Allen, Virginia 23060
Phone: [phone]
Fax: [fax]
email: [e-mail]
[Exhibit 1 – Defendant's First Set of Interrogatories]
[Exhibit 2 – Defendant's First Set of Requests for Production of Documents]
---
This document is part of a larger court case filed against this site and a former member by the World Mission Society Church of God (WMSCOG) in Dec 2011. For more documents from the court case see the timeline below:
WMSCOG vs Colon, Newton - VA Case #2011-17163
Timeline