The World Mission Society Church of God (WMSCOG) claims that they are safe from natural disasters.  Unfortunately for their claim, one of their buildings was damaged in the earthquake that hit New Zealand on February 22, 2011.
No Official Mention
I can find no official mention of the church being damaged on their official web site as of July 14, 2011.  Even the WMSCOG blogosphere seems to be unaware.
Earthquake Damage
These pictures come to us from our correspondent in New Zealand.  In her own words she writes: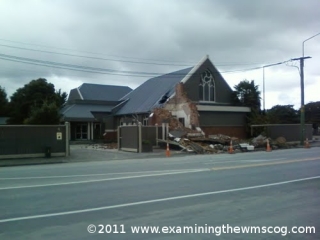 As you know we are from Christchurch New Zealand here we have suffered some big earthquakes that have taken lives and homes and churches alike. After the 7.1 earthquake in September that devastated a lot of Christchurch's churches, WMSCOG members were gloating that their church was not damaged, that "Mother" [Zhang Gil Jah] and "Father" [Ahnsahnghong] saved them, and that is why the other churches fell and not theirs, telling anyone who would listen they were saved by the heavenly mother…. However, we had another big earthquake on the 22nd of Feb this year and this was the result at the church they had recently purchased and done up.  The very place they were preaching that mother had saved…"

Just to let you know, no one was injured in the building that we know of.  Even after the damage was sustained that very day, they all rushed to the place straight after the quakes.  Meanwhile, we were still having violent aftershocks. We all thankfully escaped with our lives.  Many were not so lucky.  Christchurch lost 180 people that day and most of its business district.
| | |
| --- | --- |
| | |
The Location
This building is located at 4 New Brighton Rd, Christchurch New Zealand. You can see it on Google maps below. The street view image is old, but you can still explore the neighborhood.
[cetsEmbedGmap src=http://maps.google.com/maps?f=q&source=s_q&hl=en&geocode=&q=4+New+Brighton+Rd,+Christchurch+New+Zealand&sll=37.0625,-95.677068&sspn=54.005807,79.013672&ie=UTF8&hq=&hnear=4+New+Brighton+Rd,+Christchurch+8061,+Canterbury,+New+Zealand&t=h&ll=-43.508054,172.663362&spn=0.000681,0.00114&z=19&iwloc=A&output=embed width=500 height=350 marginwidth=0 marginheight=0 frameborder=0 scrolling=no]
And just in case you weren't sure if this was a WMSCOG location, you can
verify it on Yellow Pages here
.
Safe or Not?
The WMSCOG preaches they are safe from disasters, but yet their church was damaged?  Shouldn't the disaster have "passed over" them?  If they claim that:  "well no one was hurt", then can not the other non-WMSCOG churches which suffered no casualties and no damage claim that they are the true church?
If they claim that "well this place wasn't celebrating the Passover correctly", then again I'd have to point out all the Christians and non-Christians alike who don't even try to celebrate the Passover and suffered no damage, but yet, the WMSCOG, try as they might, was still damaged?
I think it's pretty clear that the WMSCOG's claim to be safe from natural disasters just doesn't add up.
Our prayers go out to all of those affected by this terrible disaster.