Ahn Sang Hong Predicts Christ's Return in 1988
Many people predicted that Jesus would return in 1988. It appears that 1988 was a popular year for many false prophets. Predictions included the return of Jesus Christ, the rapture, and the end of the world. Here is a list:
Edgar C. Whisenant predicted that the Rapture would occur in 1988 in his book "88 Reasons Why the Rapture Will Be in 1988". When his prediction did not materialize, Whisenant wrote "89 Reasons why the Rapture is in 1989".
Colin Deal authored a book called, "Christ Returns by 1988".
J R Church clearly writes that 1988 would be the year that Christ would return in his book "Hidden Prophecies in the Psalms".
Ahn Sahng Hong's Failed Prediction
It turns out that Ahn Sahng Hong predicted that Christ would return in 1988 as well.
Recorded in his own writings
Ahn Sahng Hong's prediction was recorded in his own writing which you can read here (Chapter 1). 
Recorded in his church's publications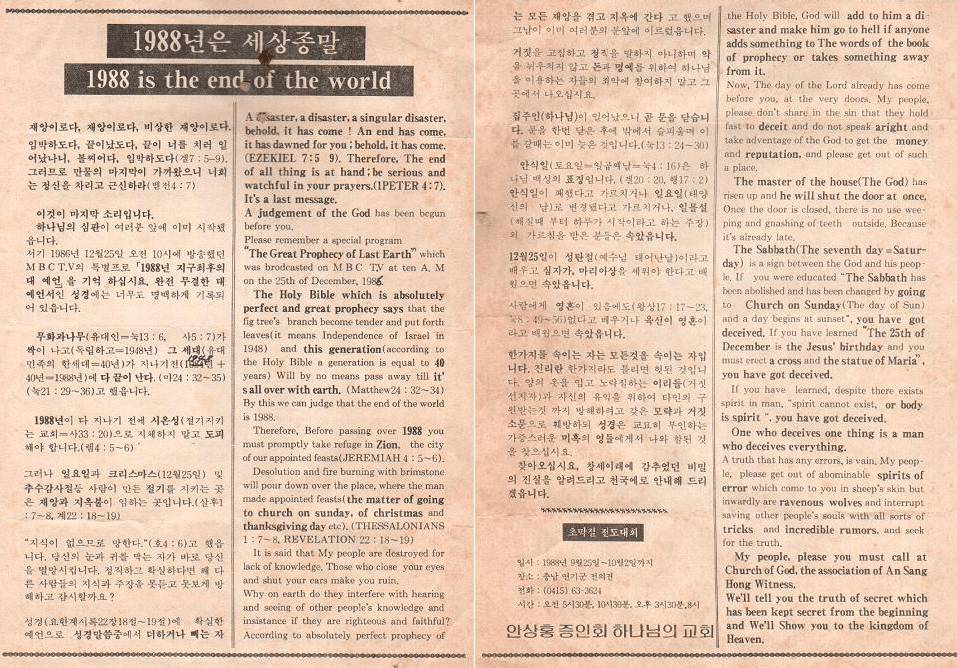 Above, is a pamphlet that the WMSCOG circulated in 1988 warning the public in South Korea about the end of the world. A South Korean Court also documented the 1988 failed doomsday prediction. Click here.
Recorded by other members
Here is a website posted by a World Mission Society Church of God (WMSCOG) member which talks about it.  The author of this site claims that Ahn Sahng Hong made this false prediction of Christ's return in order to fulfill the "prophecy of Jonah".  The post has since been deleted so here is a screenshot of the post from an Internet archive. A missionary's notes on the prophecy of Jonah are also embedded below.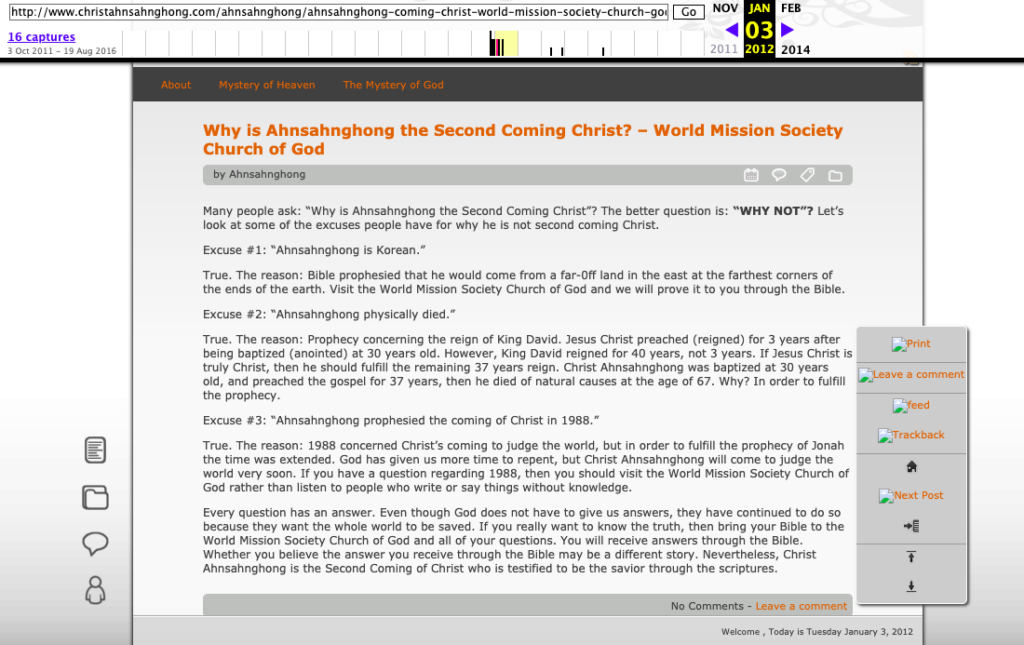 PROPHECY-OF-JONAH

This doesn't make any sense.  Were the other three false prophets listed above also fulfilling the same prophecy right along with Ahn Sahng Hong?  No.  They are false prophets, and so is Ahn Sahng Hong.

Sermons I heard on the topic
In my experience in the WMSCOG, the pastor spent an entire service explaining why Ahn Sahng Hong predicted that the world would end in 1988.  The pastor, like the blogger referenced in the previous paragraph, also explained that this prediction fulfilled the "prophecy of Jonah".
What Does the Bible Say?
Jesus said in Matthew 24:36 that no one knows the day nor the hour, only the Father.  Therefore, since Ahn Sahng Hong 1988 prediction did not materialize, not only is he not the "father" as some WMSCOG members refer to him, but he also clearly violated Matthew 24:36, by claiming to know when Christ would return.
For more information on the multitude of failed apocalyptic predictions visit http://www.bible.ca/pre-date-setters.htm