Ahn Sahng Hong's New Tombstone
This article is dedicated to all of those who thought Ahn Sahng-Hong was married to Zahng Gil-Jah, only to learn he was really married to Hwang Won-Soon.
The World Mission Society Church of God (WMSCOG) claims that their supposed founder Ahn Sahng Hong was "spiritually married" to a woman named Zahng Gil Jah, whom he revealed as "god the mother". Actually, Ahn Sahng Hong founded the New Covenant Passover Church of God (NCPCOG), and was legally married to a woman named Hwang Won-Soon with whom he had four children.
That is why, after Hwang Won Soon's death in 2008, she was buried next to Ahn Sahng Hong, and his original tombstone was replaced with the one below: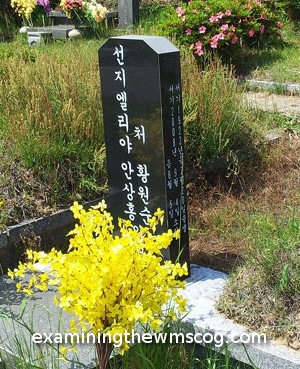 The first picture, which is the front of the tombstone reads:
선지 엘리야 – Prophet Elijah
안상홍- Ahn Sahng Hong
처– Wife
황원순-Hwang Won Soon
의 묘– Their grave
So the tombstone reads:
Prophet Elijah Ahn Sahng Hong and his wife Hwang Won Soon's grave
The right side of the tombstone has the dates of their births and deaths.
The tombstone is located at the cemetery: 경남 양산시 상북면 외석리 산8-1번지 석계공원묘원at lot: 5블럭 42열 12번, 13번에.
The Real Tomb of Jesus
Here is the tomb of Jesus, also known as the Church of the Holy Sepulchre, which is visited by millions of Christians from around the world every year: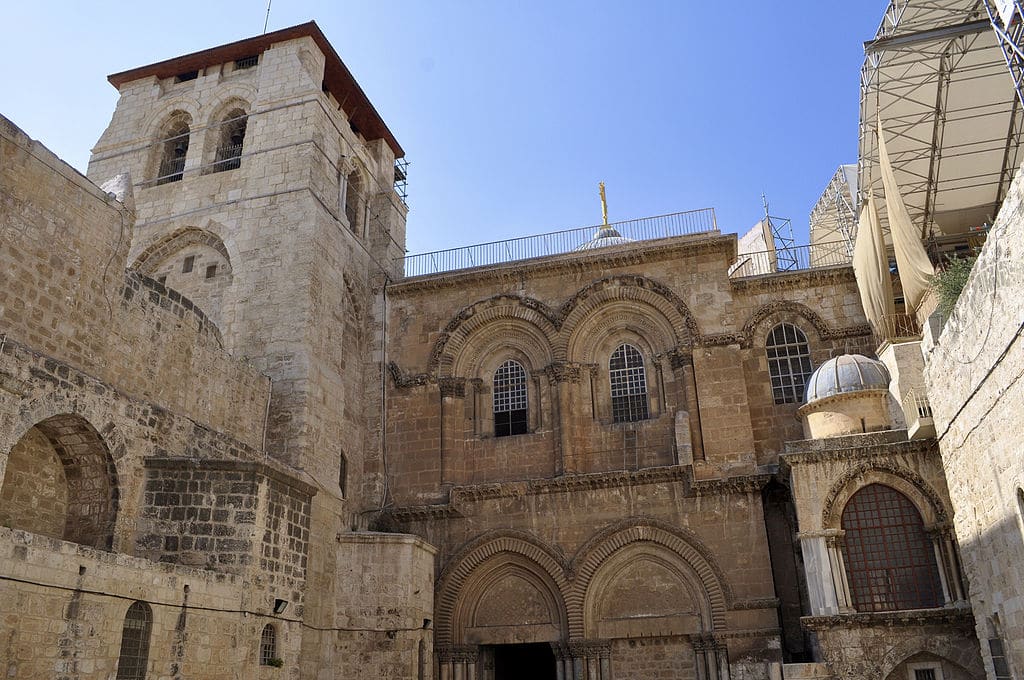 Yet the tomb of Ahn Sahng Hong, is relegated to a common cemetery, an overgrown grave, and is shared with a woman who is not Zahng Gil Jah.
Where are the great pilgrimages to Ahn Sahng Hong's tomb by followers of the WMSCOG?
If millions of Christians visit the tomb of Jesus every year, why don't WMSCOG members visit the tomb of Ahn Sahng Hong? Perhaps it is because they (at least those that read Korean) would see that "the Prophet Elijah" is written on it and not "the Christ". Or perhaps it is because they would see that he is buried beside his real wife, Hwang Won Soon. Whatever the reason, I find it hard to believe that a man who:
is the Second Coming of Jesus and was "spiritually married" to another woman other than his legal wife.   Put aside for a moment that Ahn Sang Hong's end of the world predictions didn't come true and were removed from his writings, that he said the idea of a "mother god" was delusional, that he completely refutes the same verses that the WMSCOG uses to say that Zahng Gil Jah is "god the mother" and concludes that there is no mother god… At some point you have to stop and ask yourself "how much longer can I ignore what is plain to see"?  The WMSCOG's teachings are part of an ever-evolving story that have been invented to fit a set of facts and that whenever another fact emerges, the story must become ever more convoluted in order to fit the new "truth".